Award Winning
Sweeping the Competition at the World Leather Debut
Traditional Rawhide Braiders swept all categories (1st and 2nd) of Rawhide braiding at the 5th World Leather debut in Sheridan, Wyoming. the Sheridan contest is considered the most prestigious of all makers contest. Sheridan is also the home of the world famous "DON KING WESTERN MUSEUM" which has a permanent display of many braided items from Traditional Rawhide Braiders.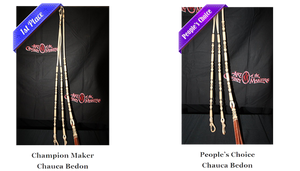 Traditional Rawhide Braiders has been in business since 1999. 
During the course of our 20 years in business, we have entered our staff braiders in 3 braiding contests:
In 2006, we entered Baltodano in the Rocky Mountain Leather Debut in the "braiding" category.
We were awarded first and second place for his romal reins, judged by Bill Black.
In 2012 and 2013, we entered Eberht Chauca in the rawhide braiding category. 
We won first place in 2012 with a 100 plait 3/4" bosal, and in 2013, we won "The People's Choice Award", 
and first place with a 54 plait Santa Ynez style romal.
We have entered braiding contests only a few times, and have been honored to accept blue ribbons at every event entered.
Location
Our store
4111 Camp Bowie Blvd
Fort Worth, Texas
Mon - Fri, 10am - 5pm
Saturday, 11am - 5pm
Sunday, Closed